Sweat free
Glycerin soap - melt & pour soap base - white - sweat free - type 2 - Crystal WNS - GGB26
Description: Stephenson has developed a new extra white sweat free and stable soap. This new soap is slightly thicker and more suitable for larger and less detailed soaps. The structure is thicker than the GGB02 variant.
Characteristics:
vegetable base

no paraben

clear basis ensures a beautiful white color

very foamy

superior color stability, even with high temperatures

neutral fragrance and optimal color retention

easily editable

sweat free formula*
*Sweat-free: even a sweat-free soap has the likelihood to perspire in certain circumstances. Using fragrance oils or colorants from another brand or supplier, or exceeding the maximum melting temperature of 65 degrees Celsius can cause sweating of the soap. A third cause for perspiring is when too much water is added, which puts the formula out of balance. Since we do not have the option to control whether this soap is edited correctly or not, we cannot guarantee for 100% that this soap will not perspire.
The microwave increases the chance of sweating as well as the temperature on some parts of the soap will raise far too high, which also causes the imbalance of the formula. The presence of fragrance oils and colorants increases the chance that the soap perspires as well.
Keep in mind that the so-called 'sweat' is not similar to condensation or moisture during the cooling process.
Sweat = moisture deriving from the soap forming droplets on the surface of the soap.
Condensing = moisture from air on a product which is brought from a cold setting into a warmer one.
Ingredients (INCI): Aqua, Propylene Glycol, Sodium Stearate, Sorbitol, Sucrose, Sodium Laureth Sulfate, Sodium Laurate, Glycerin, Sodium Myristate, Sodium Lauryl Sulfate, Sodium Chloride, Titanium Dioxide, Stearic Acid, Lauric Acid, Pentasodium Pentetate, Tetrasodium Etidronate.
Packaging from 1 kg: Microwave-resistant plastic container with a sealed lid.
Packaging 500g: Cellophane foil wrap.
(if necessary, ask via comments to supply an empty 1 kg container)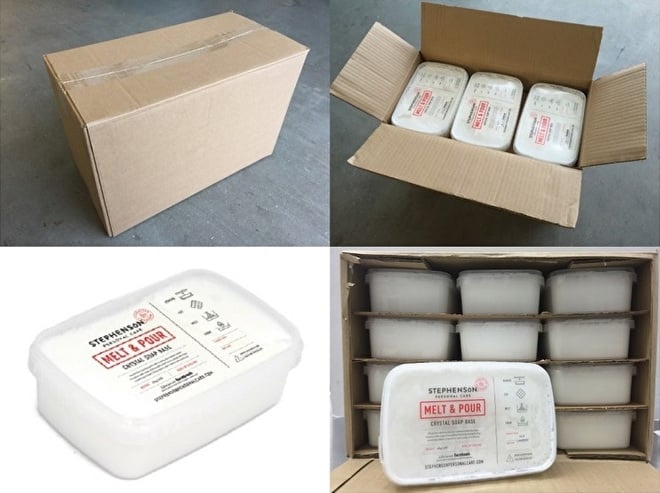 When purchased multiple package units it is possible to make a combination of the white and transparent soap with the same price advantages. Please specify your preference in the comment section (step 2 out of 4 in the order module)
bulk 1 = 1 mini pallet - 240 x 1 kg
bulk 2 = 1 block pallet - 864 x 1 kg
Delivery time bulk orders: 2 up to 5 weeks
Producer: Stephenson Group