Promotion Partners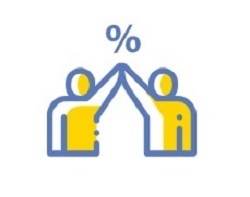 ​
Bring in new customers for SoapQueen...
...and get an extra discount on your order on top of your customer discount,
or have the cumulative discounts that you have saved, credited to your bank account.
Procedure:
Both consumers and companies can participate in becoming a Promotion Partner. Apply here.

The Promotion Partner receives a personal couponcode.

As a Promotion Partner you are allowed to distribute and publish this PP code to motivate new customers.

This PP code gives new customers a 7,5% discount on orders at SoapQueen.

The PP couponcode is not valid in conjunction with any other discount codes.

The Promotion Partner receives a part of the turnover that results from the orders with his / her personal promotion code. (commission)

The percentage of the commission increases as you bring in more new customers (See table below).

You can use the "variable discount code" to bring in new customers easily.

For example: Set the PP code at 10% for new customers and decrease your commission with 2,5%.

When you place a backlink to online-zeepwinkel.nl, you receive 1% commission extra.
When you place a backlink to soapqueen.eu, you also receive 1% commission extra.

Maximum commission = 11% of the turnover that result from PP code orders.

You can only get commission over orders that are placed by new customers who use a PP code.

Promotie Partners who own a website or blog can apply for an ID-link.

When an order is placed by an ID-link, you also get commission when the orderer is already a customer.

It is possible to have personal ID links directly linked to products in our web shop.

The commission amount that is saved, is paid monthly in the form of an order discount (PR).

These PR order discount can be saved up to a maximum of € 200 per account.

You can only use one PR discount per order or you can use it every 30 days.

The PR discount that is saved up can be combined with other discounts.

It is possible to have your commission* paid out to your bank account maximum 1 time every 30 days.
* 60% of the saved credit.

Business Partners can receive up to 1% extra loyalty discount as a Promotional Partner.

The Promotion Partners have no obligations and are not committed to anything.

This is just a soap that washes on both sides! (sinds april 2008)
Summary of the basic commission percentages:
New customers
Promotie Partner status
Basic Commission

0 tot 5

customers

Starting Promotie Partner

5% of turnover

6 tot 10

customers

Bronze Promotie Partner

6% of turnover

11 tot 15

customers

Silver Promotion Partner

7% of turnover

16 tot 20

customers

Golden Promotion Partner

8% of turnover

21 tot 25

customers

Platinum Promotion Partner

9% of turnover

from 26

customers

Diamant Promotion Partner

10% of turnover
Extra rewards:
| | |
| --- | --- |
| Backlink to online-zeepwinkel.nl | 1% extra commission |
| Backlink to soapqueen.eu | 1% extra commission |
| When you bring in most customers of the month | € 10 BONUS |
| Every 25th customer or ID order | € 25 BONUS |
Promotion Partners
Basket
No items in shopping cart.