recipe - Candylicious Soap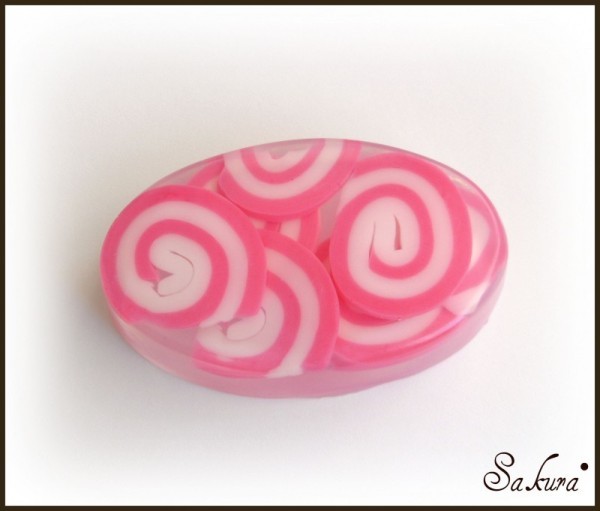 A super cute soap filled to the top with sweets!
REC07
Materials:
Method:
Step 1. Take a large piece of aluminium foil and fold a square "cake bottom". In this you will pour two layers of soap, so ensure that the sides of the square are high enough.

Step 2. Take 250 gram white pour soap, divide into small pieces and let melt completely.

Step 3. The white pour soap does not need to be coloured, give this soap a nice fragrance of choice (perfume oil

Step 4. Spray your homemade cake bottom with alcohol. Pour all the white soap in the mold. (Let dry for about 7 minutes)

Step 5. Take 150 gram white pour soap, cut in small parts and let melt completely.

Step 6. Colour this pour soap with PIGMENT SOLUTION. In case you use a colour on water base, it will run through the entire soap, which would be a shame.

Step 7. Once you have coloured this soap, you can add a fragrance as well.

Step 8. Spray the previous (white) layer of soap with alcohol and then pour the coloured layer of soap on top of it. (Leave for 10 minutes

Step 9. Now you can remove the soap carefully from the foil. Place on a flat working space and roll tightly so that you have a nice soap roll.

Step 10. Cut the soap roll into thin slices = 1 cm per slice (you will notice this looks exactly like candy)

Step 11. Take a soap mold of choice and take the right amount of transparent soap (melt this)

Step 12. Add fragrance to your transparent soap, NO COLOUR

Step 13. Pour the soap in the desired mold and spray the surface with alcohol.

Step 14. Spray the soap candy with a thin layer of alcohol and let drop carefully intro the transparent pour soap. (if desired you can replace or move the "candy" with a wooden skewer)

Step 15. Spray the surface with alcohol once more and let dry well.

Step 16. Remove the soap from the mold and enjoy your creation!
(Be careful with children)
Sakurazeep
Basket
No items in shopping cart.