100% natural - Organic
Glycerin soap - melt & pour soap base - 100% natural - Organic - Crystal OMP - GGB23
Description: A beautiful 100% natural Organically certified soap with a very high level of glycerin due to the saponification of sustainable palm oil and coconut oil.
The used palm oil is RSPO certified (100% sustainable). However, there are, in a very small amount, some ingredients included, which are derived from not-certified sustainable palm oil. In case you find this onerous, we advise you to order our Crystal SP - SG - GGB16, which contains 100% sustainable palm oil.
Characteristics:
no surfactant substances

very rich in glycerin (Formed during the saponification of oils)

no parabenen

no phenoxyethanol

no Sodium Lauryl Sulphate (SLS-free)

no Sodium Laureth Sulphate (SLES-free)

organic label (certificate)

PEG-free

no Propylene glycol

made of 100% natural ingredients

vegetal basis

moisturizing due to high level of glycerin which gives a fine sense to the skin

natural fragrance for optimal fragrance absorption
Color: Gold-brown - non-transparent
INCI: Aqua, Glycerin, Sodium Palmate*, Sucrose, Sodium Cocoate, Decyl Glucoside, Sodium Chloride, Citric Acid, Aloe Barbadensis Leaf Juice Powder, Sodium Citrate, Sodium Palm Kernelate.
* derived from 100% RSPO certified palm- and palm kernel oil.
SA Certificate No. H8788
Packaging from 1 kg: Microwave-resistant plastic container with a sealed lid.
Packaging 500g: Cellophane foil wrap.
(if necessary, ask via comments to supply an empty 1 kg container)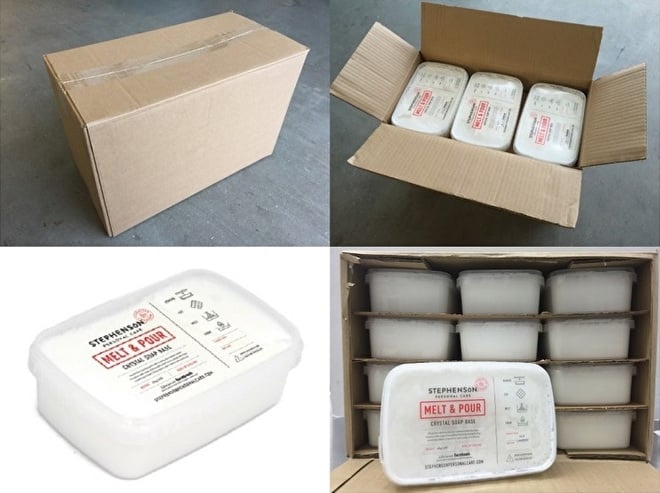 (the example picture contains white)
bulk 1 = 1 mini pallet - 240 x 1 kg
bulk 2 = 1 block pallet - 864 x 1 kg
Delivery time bulk orders: 2 to 5 weeks
Producer: Stephenson Group